ECAR | Every Child a Reader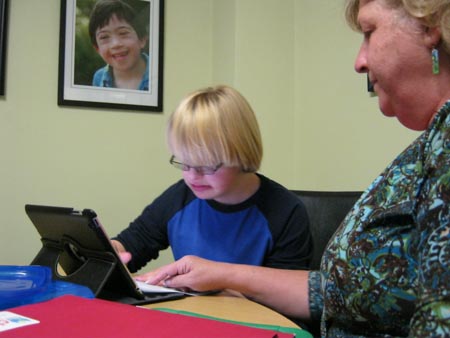 WAIT LIST ONLY- ECAR is currently FULL!
Every Child A Reader is a one-on-one literacy tutoring program focusing on the development of reading and writing skills. ECAR is the next step after the Learning Program and one more step on the education pathway of the children attending. This program requires active participation by both the student and his/her parents to be successful. Skills are presented and taught in 45-minute-long weekly tutoring sessions; tutors meet with parents for 15 minutes at the end of each session, and then work is given to be continued at home with daily repetition. Club 21 aspires to graduate an entire generation of capable readers with Down syndrome who will, as a result, be more independent and confident in their daily lives.
Winter Session: 8 Week session- Tuesday/Wednesday January 9/10- Tuesday/Wednesday February 27/28
When: Weekly on Tuesday and Wednesdays from 4:30-5:30 
Age Range: Kindergarten and Up.
Cost: 
Winter Session (8 weeks) is $200
A discount of $25 will be given if you sign up and pay in full for winter session.  Total registration fee for this session will be $175, if paid in full and $200 if paid week to week.
Required deposit will be $50 for one session. Payment in full is $175 and discount only applies if you sign up and pay for both sessions.
MEMBERSHIP MUST BE RENEWED (all memberships expired in January 2018)
Program Director: Joyce Webster
For additional info call 626.844.1821 or email programs@clubtwentyone.org
Don't Forget: You Must Be a Member of Club 21 to Participate
We are grateful to the following foundations that have provided funds and resources to make ECAR possible: Von Der Ahe Family Foundation 
---