Info about the Conference:
Join educators and families at the 2018 Tools for the Journey Conference, on January 26th and 27th where presentations by experts in the field will share the best practices for educating and supporting students with Down syndrome and other disabilities. This year there will be a range of over 12 stimulating workshops from friendship, inclusion support, modifications, technology and life after High School opportunities. Our presenters come from all over California and they will share their expertise, innovative, research-based strategies on a variety of topics.  YOU won't want to miss it!  Spaces are limited.
Conference Location: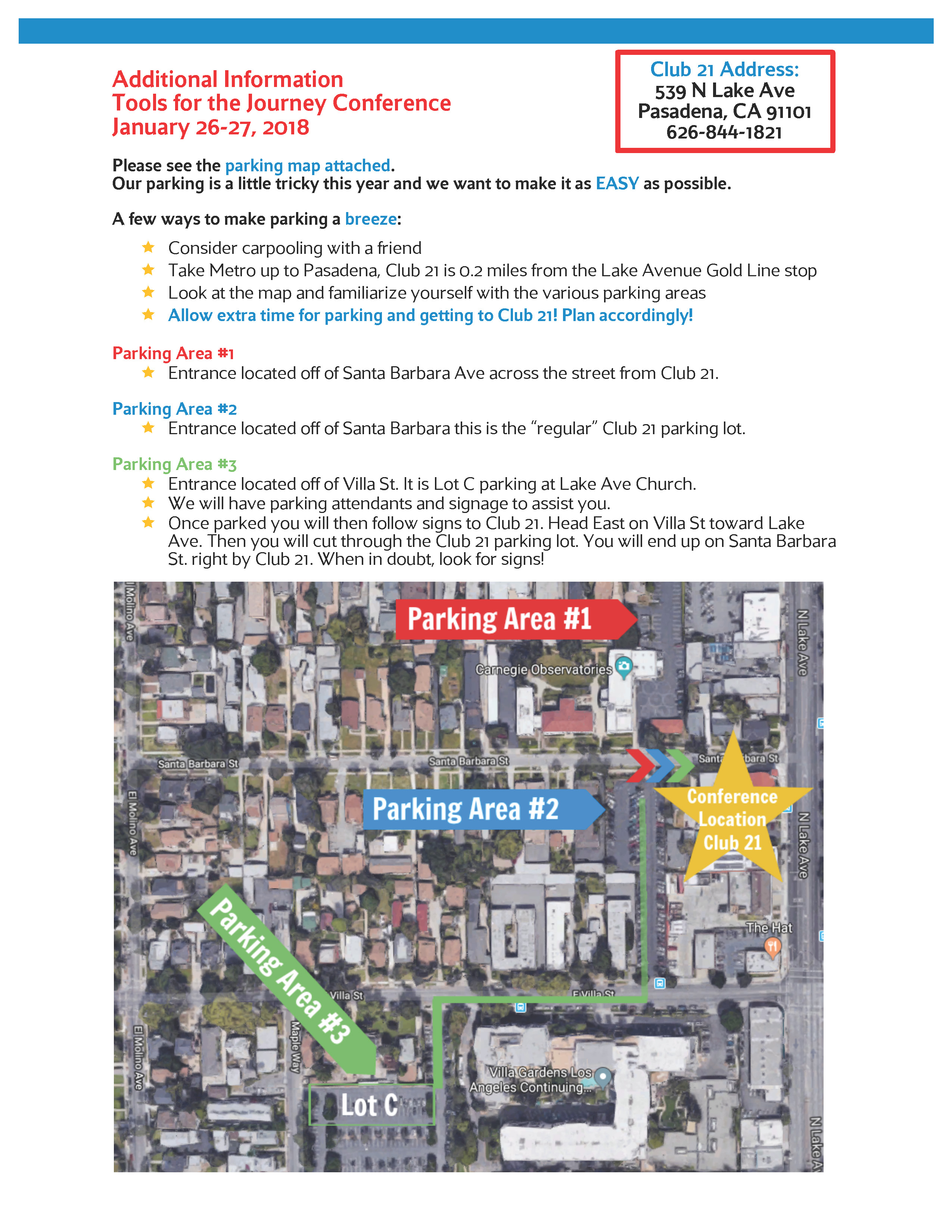 Club 21 Learning and Resource Center
Cost:
| Pricing | 1-Day Member | 1-Day Non Member | 2-Day Member | 2-Day Non Member |
| --- | --- | --- | --- | --- |
| Individual Registration | $100 | $150 | $150 | $200 |
| **Conference is vendored by Regional Center | Vendor #PD2655 | | | |
---
Schedule:
Click here for Session Descriptions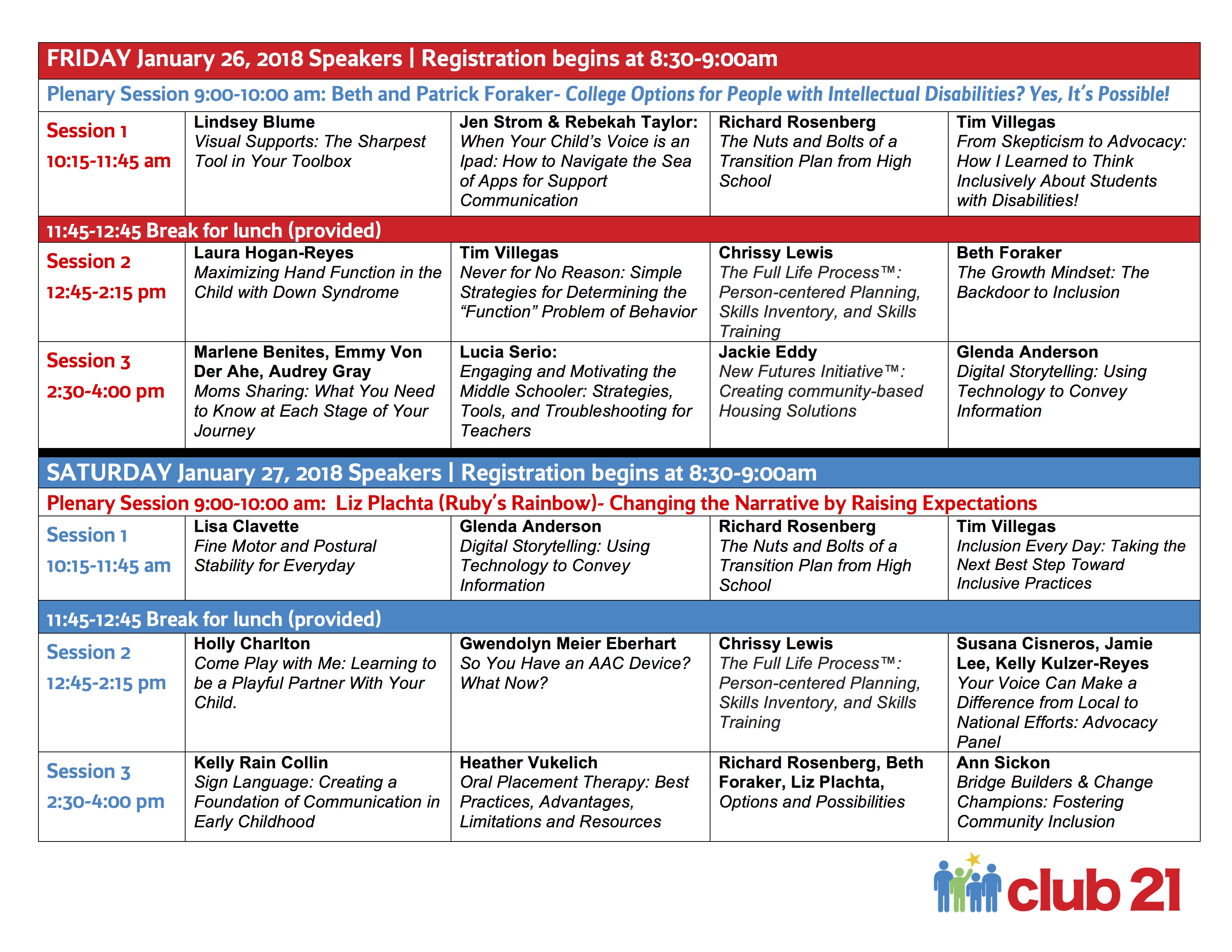 Speaker Bios:
Glenda Anderson

Glenda Anderson brings the experience of working with students with special needs for over 35 years. She has a wide range of experiences working with diverse populations and using her diverse skills in public education. After 17 years in the classroom, Glenda changed her focus to assistive technology, when she found it to offer a nice blend of her experiences and interests. She recently retired from the county office of education to focus on providing AT assessments, evaluations, workshops and other services through her company, Enabling Solutions-Opening Doors. She continues to support the Northern California school systems, the Regional Center and California State University of Chico with her assistive technology knowledge and experience.

Richard L. Rosenberg, Ph.D.

Richard received his Ph.D. from the University of Wisconsin, Madison in Behavioral Disabilities and Educational Administration. Richard has had over 35 years of teaching and administrative experience as well as a faculty member at California State University, Los Angeles. Currently Richard is the Vocational and Training Coordinator for Whittier Union High School District's Career Connection. Richard has been identified as the WUHSD Teacher of the Year for 2009-2010 school year. Richard's special education administrative position is to coordinate vocational and career support for all students with special education needs for the five high schools and providing technical assistance for adult agency providers supported employment and supported living services. Richard has worked for a number of years with Interagency Systems Change grants linking Education, Rehabilitation, and Developmental Disabilities services at a local, state, and national level.

Laura Hogan-Reyes

Laura Hogan-Reyes, MA, OTR/L, SWC received her Bachelor of Science degree in Occupational Therapy in 1984 from Western Michigan University and her Master of Arts degree in Occupational Therapy and Occupational Science from University of Southern California in 2000. She has over 30 years of pediatric experience in a variety of settings including hospitals, clinics, schools and home based treatment. Most recently, Laura worked at Center for Developing Kids from 1999-2017 and was the owner and director from 2004 until she sold the business January 1, 2018. Laura is certified in Neuro-Developmental treatment (NDT) and has received her Advanced Practice Certification in Swallowing Assessment, Evaluation and Intervention (SWC). She has been published in professional journals and has co-authored a book titled "Pediatric Splinting".

Kelly Kulzer-Reyes

Kelly Kulzer-Reyes has lived in Pine Mountain Club, CA, with her husband, Moses, and three kids, on the northern edge of Los Padres National Forest in Kern County since 2004. Kelly's daughter, Amelia, has Down syndrome. Her sons, Noah and Simon, do not.

Kelly is an English professor at Taft College by day. During her lunch breaks and before the kids wake up, she works on legislative advocacy to shape policy both in California and at the Federal level. She has been traveling to Sacramento and Washington, DC to advocate and testify at hearings since 2014.

She is a member of the National Down Syndrome Advocacy Coalition, a grassroots organization through National Down Syndrome Congress, and she co-chairs the California Down Syndrome Advocacy Coalition.

Lisa Clavette

Lisa is originally from Canada and worked for 10 years as an OT in Canada in both a Pediatric clinic and for a school district. Since she moved 12 years ago to the Los Angeles area, she has been working as a School Based Occupational Therapist for LAUSD. She has been consulting with the Infant Program and for the North Valley Regional Center, Early Intervention Program for 12 years. She uses different modalities such as Sensory Integration, NDT, RTI when intervening with children. For the last 3 years, Club 21 Learning and Resource Center has been grateful to have her skills, expertise and lovely disposition every Second Saturday at the Learning Program.
Lisa strongly believes in Parent Education and using an interdisciplinary approach with different specialists when working with children with special needs! Her motto is, "Together is Better!

Jennifer Strom

Jennifer Strom, M.A., ATP is an Assistive Technology Specialist and consultant with over 10 years experience working in special education. She is a RESNA certified Assistive Technology Professional and adjunct professor at Claremont Graduate University where she teaches innovative and assistive technology, and facilitating communication and development of social networks in the classroom setting for students with moderate to severe disabilities. Jennifer has two education specialist credentials in Moderate/Severe Disabilities and Physical and Health Impairments, and has taught students with a wide range of access and communication support needs from grades PreK-8. In addition to classroom teaching experience, Jennifer also served as a Program Specialist focusing on Moderate/Severe population, as well as a District AT Specialist. She currently works with districts to support curriculum access and Augmentative Alternative Communication (AAC) implementation for students grades PreK-12. Jennifer is passionate about student access to their environment, and believes that understanding what a child needs for successful communication is the first and most critical step in supporting their growth and development.

Rebekah Taylor

Rebekah Taylor, M.A. CCC-SLP, is a licensed Speech-Language Pathologist specializing in the Birth to Five population and those with complex needs including Augmentative and Alternative Communication (AAC). She has worked in a variety of settings from a child-care centre to the Anatomic Pathology department at Children's Hospital Los Angeles. As an SLP in private practice and US schools, as well as schools and clinics within the National Health Service in the UK, Rebekah received training in a variety of programs including: PROMPT, Nuffield Dyspraxia Programme, TalkTools, Lidcombe Stammering Programme for Children, and AAC assessment procedures and practice. She has completed Leadership Education in Neurodevelopmental Disabilities (LEND) and regularly participates in advanced continuing education targeting Cognitive Neuroscience, Autism, Apraxia (CAS), and various other speech and language development and disorders. Her passion for supporting children and their families and her diverse background has provided opportunities to understand how culture, community, and environment influence the growth of a child and how to help a child feel secure and confident in their ability to communicate and participate in their world.

Lucia Serio

Lucia Serio was born into a family of educators and has worked in many facets of the education world. She has worked with individuals with diverse needs for over 10 years, from pre-school aged student to individuals transitioning into adulthood. Lucia attained her Education Specialist teaching credentials and Master of Arts degree in Special Education from the California State University of Los Angeles, and has taught elementary and middle school classrooms in public and non- public schools. Lucia now works at the University of California, Los Angeles, consulting with special education teachers on their implementation of evidence- based teaching practices, in special education and general education settings. Lucia has been involved in Club 21 since 2015, by collaborating and supporting families, students and teachers. She is an advocate for Club 21's mission to provide tools and resources that enable individuals with Down syndrome to be fully included. Together is better!

Tim Villegas

Timothy Villegas has worked in the field of special education and with people with disabilities for nearly fifteen years. He is the founder of Think Inclusive, an inclusive education and community advocacy resource that promotes ideas, innovation, and inspiration to change our world to be more accepting while valuing every human being. Currently, he is a Certified Autism Specialist working for a public school system in the Metro Atlanta area. Timothy lives with his fetching wife and three adorable children in Marietta, GA.

Heather Vukelich

Happy Kids Therapy has a soul-filling passion for children with Down Syndrome. Heather Vukelich, MS SLP-CCC (speech pathologist and feeding specialist) has been part of the Down syndrome community since childhood when she volunteered in the special day classroom at her elementary school. Her passion continued through her life volunteering for the Down Syndrome Connection of the Bay Area and Challenger Baseball league. She has been a practicing, ASHA certified speech - language pathologist since 2003. She has worked inside the doors of the Down Syndrome Connection of the Bay Area since 2008.

Today, Heather's passion for inclusion and independence translates directly into her work with children on speech clarity and feeding development. Heather is a certified Talk Tools therapist (Level 4 - Specific to Down syndrome). ​ Heather was trained by the creator of the Talk Tools program - Sara Rosenfeld Johnson. (www.talktools.com). Heather sees children of all ages (birth - adults) with a variety of diagnoses. Heather's specialty in working with children with Down syndrome also includes in-depth knowledge and resources regarding: dietary considerations, communication programs, educational programs, medical considerations, physical and sensory needs, as well as behavioral strategies.

Heather has recently spoken at the 2017 USC UCEDD Community Education Conference (Los Angeles), as well as at NDSC 2017 (Sacramento).

Lindsay Blume

Lindsay served as a special educator and Autism Behavior Specialist in Orange County, CA. Currently, Mrs. Blume teaches in higher education in both moderate/severe credential programs and general education credential programs, training new and prospective teachers.

Jamie Lee

Jamie's formal educational background includes a MA in Secondary Education with an emphasis English (USC), Post graduate work in Paralegal studies (NYU), BA in Psychology, Minor in English (UCSB). Professionally, Jamie spent several years as a regulatory compliance analyst and made a switch and taught English at the High school level. Informal education, and arguably most influential, has been her role as wife, and mom to Shane, who has Down syndrome (5) and Shiloh (3).

Currently, Jamie advocates for those with Down syndrome/ special needs and their families in every way she can. She's have found, by sharing her experiences alone, she can encourage and empower families along this journey of ours. Her greatest passion is bringing forth the value of people with all abilities to the forefront, especially through the context of her faith. Jamie sits on the board of Club 21. When given the opportunity, I speak new life into narratives surrounding disability.

Kelly Rain Collin

Kelly Rain Collin, Ed.M. is an educational consultant and advocate and founder/director of Healthy Minds Consulting. Kelly has worked with high-risk and special needs youth since 1990, and has been using sign language to communicate with friends and colleagues since 1989. Kelly earned a BA in Child Development/Child Mental Health, and a BA in Psychology from California State University Northridge. She obtained her Masters in Education from Harvard University.

Kelly believes strongly in ensuring children's mental health is supported and nurtured both at home and school. The Baby Signs® Program fits perfectly into her educational philosophy, as it supports and encourages children's communication, language, intellectual, and socio-emotional development simultaneously.

Kelly provided Educational Consultation for a psychiatric clinic co-run by Westside Regional Center and University of California, Los Angeles (UCLA) and continues to serve as the Education Liaison to the Juvenile Mental Health Court in Los Angeles County. She and her husband, Dærick, with the assistance of their 2-year-old son, co-teach Baby Signs® presentations to parents, agencies, and service providers throughout the greater Los Angeles area.

Liz Plachta

After having been entirely volunteer-run for its first four years, Ruby's Rainbow took on its first full-time Executive Director, Liz Plachta-Co-Founder and mom to Ruby, in 2016 to meet the demands of this rapidly expanding organization. The rest of the organization is still volunteer-run, and is made up of parents, family and friends of people who happen to be rockin' that extra chromosome. Everyone involved with Ruby's Rainbow is passionate about spreading the word about these incredible, capable individuals.
Liz's drive to start Ruby's Rainbow came from her adoration for her family. Her passion to provide her children with the best inspired her to help other families like hers with educational costs and support, as well as helping to raise standards and expectations of individuals with Down Syndrome. She truly is the driving force behind Ruby's Rainbow.

Liz resides in Austin, Texas with her handsome Hubby, Tim, Ruby and her oldest daughter, Ella Mae. They enjoy spending time as a family and look forward to continuing their mission and passion of showing the world just what people who are rockin' that extra chromosome are made of!!

Ann Sickon

Ann, who joined Center for Independent Futures in 2012, has an adult sibling and a child with disabilities. Building a career combining health, business, and law, she has worked in hospital research, community health nursing, and starting and managing healthcare businesses. Ann's health law practice focused on merger and acquisitions and healthcare management issues. Ann earned her J.D. from Loyola University School of Law, her Nursing Diploma from Henry Ford Hospital School of Nursing and her Bachelor of Science degree in healthcare administration from University of Michigan-Flint. She remains active with multiple charities, primarily focused on children and services for individuals with developmental disabilities.

Jacqueline Eddy

Jackie has worked with Center for Independent Futures since 2002 in the areas of marketing communications, product development, and training. Jackie holds a B.A. in Art from St. Cloud State University in St. Cloud, Minnesota, and an M.B.A. from Northeastern University in Boston. She brings her experience in general management, marketing, and training positions to her work with Center for Independent Futures.

Chrissy Lewis

Chrissy began her career in sales and marketing before pursuing a master's degree in education in 2001. She gained experience as a teacher, case manager, and guidance counselor in Chicago Public Schools while receiving a master's degree in counseling. After transitioning into the non-profit sector, Chrissy joined Center for Independent Futures to advocate for educational access and resources for students with disabilities.

Gwendolyn Eberhard

Gwendolyn Eberhard, MA, CCC-SLP, MT-BC is a speech-language pathologist, music therapist and assistive technology specialist. As director of the Speech & Language Center at Villa Esperanza Services, Gwendolyn heads a team of speech and language specialists focused on building communicative skills in early intervention, educational, vocational and community settings with a particular emphasis in augmentative and alternative communication (AAC) for learners who are nonverbal or minimally verbal.

Beth Foraker

Beth Foraker is a mom to four kids and a teacher who currently works in the UC Davis School of Education's Credential/Masters Program. She is the Founder/Director of The National Catholic Board on Full Inclusion - a non-profit that helps Catholic schools preschool- high school find ways to fully include students with disabilities in their Catholic schools. This effort has led her to see the need for communities and cities that she describes as Continuums of Inclusion offering fully inclusive opportunities from preschool through college and beyond. Today, her work broadly supports developing these Continuums of Inclusion. Currently, there are only four cities nation-wide who fall into this category, none in California.

Patrick Foraker

Patrick Foraker is a senior at Da Vinci High School in Davis, California. He is currently applying to inclusive post-secondary programs and hopes to attend college like his big brother and sister. For fun, Patrick likes to read Shakespeare, make cast lists, watch and perform in theater productions and dreams of someday being married and being a director in that order.

Holly Charlton

Holly Charlton, OTR/L, MS, has worked as a pediatric occupational therapist at Center for Developing Kids in Pasadena, CA. for the past 15 years of her 30+ career. Holly is thrilled to now be able to join Club 21's annual conference to reach out to families, care providers, and teachers who care, work, and above all, play with children with Down syndrome. She is eager to share her knowledge and understanding on the value of play and the aspects of development unique to children with Down syndrome that can be positively influenced through interactive play.

Marlene Benites

I am Marlene Benites and I grew up in Pasadena. I'm a mother of 2 daughters and 1 son, Brianna is 22 years old, Havanna is 15 years old and Jesse is 5 years old, who was diagnosed at birth with down syndrome.

I'm a mother and also an advocate for my son. I became involved with the district when my son began attending a fully included preschool. I wanted to get a better understanding of the services and options that the school offered to accommodate my son's needs. In 2016, I joined the Community Advisory Committee (CAC) for the Pasadena Unified School District to improve communication between parents, schools and public agencies. I also became the Community Liaison Representative for parent support.
I am passionate about parent training and continuing to educate myself and on a daily basis. Learning and sharing any knowledge that I receive not only helps my son's journey at school but it also helps other parents and their journey. It makes me happy to provide guidance and awareness to others in their journey. I only hope that these parents would also share information to other parents who are struggling to find some type of direction.
Moreover, I'm a parent who believes in full inclusion. I also am a huge supporter of my son Jesse, becoming responsible, independent, functional in an environment where he learns from his peers and his peers learn from him. I look forward to the day that Jesse gains the confidence, embraces his unique talents, abilities and is able to voice himself so that he may continue to be included in his school and the community.
Paid for in part by:
Dodgers Foundation
Von Der Ahe Family Foundation
Marion Family Foundation