The Learning Program is designed to supplement traditional education.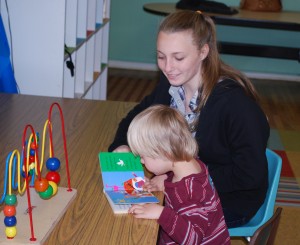 The Learning Program is designed to supplement traditional education. Through this program, we strengthen the educational potential for children with Down syndrome, regardless of their formal educational setting. The program focuses on parents as first-teachers for their children, bringing the results of research into practice. Knowledgeable parents can work more effectively with their children and give them a jump-start on education beginning as early as age 2. The program also enables parents to serve as capable advocates for their children in the educational process. Parents enrolled in the core program attend a monthly instructional session. Children simultaneously attend a monthly session with a teacher, OT, and SLP to focus on skill development in literacy, math, language, and fine motor skills. Materials are provided monthly, allowing parents to reinforce targeted skills at home.
When: Monthly on the second Saturday a month and continuing throughout the year for ten meetings from September to June.
Age Ranges:
Pre-K (3 – 4 year olds)
Level 1 (4-6 year olds)
Level 2 (6+ year olds)
Cost: $500 for 10 months. Arrangements may be made to pay monthly by credit card or 10 post dated checks. $300 Parent Only option (includes materials).
Requirements: Membership in Club 21
Facilitators: Parent Training: Kristen Enriquez Classroom Instructors: Andra Clarke
For additional info call 626-844-1821 or email programs@clubtwentyone.org 
Don't forget: You must be a member of Club 21 to participate. 
---
An affiliate-partner of the Learning Program™, a nationally-recognized model for parent-focused intervention developed by the Down Syndrome Foundation (Orange County, CA)