Welcome New and Expectant Parents!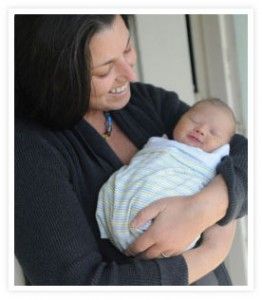 Congratulations on your new baby! We welcome expectant and new parents to our family at Club 21 Learning and Resource Center.  As parents who have experienced the birth of a baby with Down syndrome, we know that this is a time of mixed emotions. Receiving a prenatal diagnosis that your baby will have Down syndrome can be overwhelming. There will be challenges in raising your child, but there will also be many, many joys. It is normal to be nervous about what lies ahead, but remember that Down syndrome is a condition your baby has, it is not who your baby is.  We have compiled some resources to help you make an informed decision regarding your pregnancy and the journey.  Club 21 is here for you, offering support and resources, throughout this very tender and important time.
Support: Club 21 has trained parent volunteers, each of whom has a child with Down syndrome.  We are available any time, whether it is in the hospital, at your own home, or on the phone. Each volunteer is more than willing to answer questions and offer support. Please call us to talk or schedule a visit.  
In addition, Club 21 has a wonderful group of new and expectant parents to connect with.  We are currently meeting both virtually and in person.  For meeting dates and times, please email: pam@clubtwentyone.org or call us at 626-844-1821.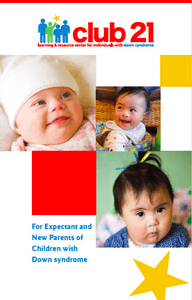 Click the image to download our New Parent brochure.
Brighter Tomorrowsis a website giving information for expectant parents in both English and Spanish.

is complied from parents when they received their diagnosis and provides some interesting viewpoints.

provides detailed information on the benefits of early intervention and expected milestones for babies with Down syndrome.
We look forward to meeting you and your new baby and sharing this journey together.
---
Watch this informational video from Sara Rosenfeld-Johnson below: