Nancy Litteken
Executive Director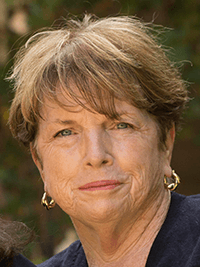 Nancy Litteken has been a "bridge builder" since birth. Her introduction to life with special needs began as a newborn hearing child of deaf parents. Much of whom she is today was shaped by her unique family life. Her skills were honed by working in Special Education with the Los Angeles Unified School District for over 30 years, both in the classroom and in job transition/placement. Nancy has a Master's degree in Special Education/Deaf Studies and she coordinated the program for Secondary Deaf and Hard of Hearing Students Career and Planning program with LAUSD for 18 years. Most recently, Nancy worked as an Infant/Preschool Specialist, providing early intervention services for Deaf and Hard of Hearing infants (0-3) and their families. Nancy and her husband Mike were among the founding families of Club 21 and when Club 21 opened its doors in 2009, Nancy volunteered as Club 21's first administrator while still working for LAUSD. Then in January 2014, Club 21's Board of Director's offered Nancy a full-time position as Club 21's Executive Director. As a parent of an adult daughter with Down syndrome, she has experienced the other side of special education – being an advocate, community builder, teacher and networker. Her passions are to bring individuals together, discover their talents, gifts and interests, and then to help them use those gifts to transform their communities. With the birth of Molly, her daughter with Down syndrome, her entire family began to work toward and promote the full potential of individuals with Down syndrome. Her daily inspiration comes from Mike, her incredible husband who passed away in 2019, her amazing son, Matt and his wife Carmen and the wondrous joy of Molly.
---
Joan McLaughlin
Development Coordinator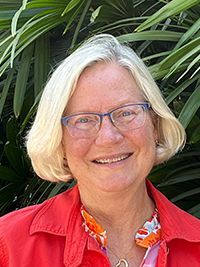 Joan McLaughlin first learned about Club 21 when she saw Nancy Litteken do a peer presentation at the school where she worked. Joan immediately wanted to get involved and volunteered as an ECAR tutor. A change in work schedule ended Joan's ability to tutor, but not her love for Club 21. Joan joined Club 21 as Development Coordinator in January 2016 following careers in commercial and private banking, wholesale and direct market fashion sales, and education and development in independent schools. Joan thinks Club 21 is the happiest place on earth and absolutely loves working with amazingly talented and dedicated coworkers, families, teachers, and volunteers. It is the best and the last career move she plans to make. When not at Club 21, Joan enjoys time with family and friends, especially her husband Patrick and adult sons Daniel and Jack. She considers herself a yoga addict and also loves Pilates, cooking, reading, and taking long walks with her dog Guinness.
---
Joy Domingo
Program Coordinator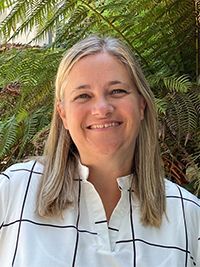 Joy Domingo is the program director at Club 21. She is married to husband James and has 3 children.  Joy is a California native, but at the age of 10 moved to Vienna, Austria where her parents moved the family to be missionaries to Eastern Europe.  She lived in Austria until she graduated high school, at which point Joy moved to England to attend Bible School. While at Bible School, her family moved from Austria to Pasadena, CA to start Foothills Community Church where she still attends today. After Bible School, Joy came home and worked as a preschool teacher for 4 years. Then Joy got the opportunity to go back into the mission field and live on a ship with 300 others from 40 different countries with Operation Mobilization. After two years of travelling the world with OM, where she met her husband James, Joy moved home to Pasadena and continued teaching preschool for another 9 years.  It was during this time that Joy found her way to Club 21.  She started out volunteering at our Every Child A Reader program.  It did not take long till she found herself hooked on Club 21's amazing community.  About 5 years and many more programs in, Joy was approached by Nancy Litteken to see if she would be interested in becoming the Program Coordinator. Joy says,  "I have never had a harder job, but also never loved a job more than working here.  It is my true blessing and honor to serve our Club 21 community and I would not want to work anywhere else!" 
---
Pam Gang
Executive Assistant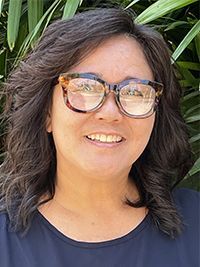 Pam was born and raised in Southern California.  She loves traveling, all things related to Broadway musicals, cooking, and discovering new restaurants with her husband Mark and her two daughters, Marley and Lauren .  Pam attended USC where she received her degree in Occupational Therapy.  After 25 years of working as an OT, specializing in pediatrics (feeding and sensory integration), she was feeling the tug towards another career which led her to Club 21 in early 2020.  Pam has found her new home at Club 21 as the Executive Assistant where she supports Nancy and the staff, works on graphics and the website, and helps to keep things running smoothly.  She is so grateful to be a part of such a diversely talented and hard working team.  
---
Pam Grassedonio
First Steps Coordinator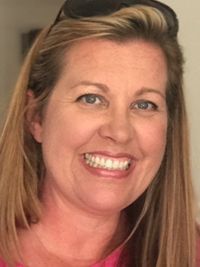 Pam Grassedonio has been a Club 21 parent since her daughter Amanda was born in 2008. She is the mom of two girls with her youngest having Down syndrome. After over 20 years of working in advertising, marketing and packaging design and serving for four years on the Club 21 board,  Pam took a position at Club 21 heading up the First Steps and Medical Outreach programs. Working with new families and helping them navigate the path as they begin their journey has been a passion for Pam as she knows first-hand how important it is for all families to get connected and have access to resources.  Through the Medical Outreach program, Pam connects with Regional Centers, top birthing hospitals, genetic counselors and Medical Professionals to get them information and let them know what Club 21 has to offer. Along with her First Steps role, Pam has recently started helping with Club 21's social media. 
---
Lucia Serio
Transition Coordinator/Educational Consultant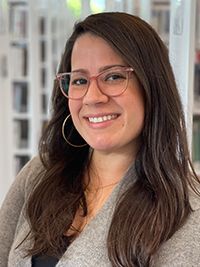 Lucia first got involved at Club 21 as a volunteer during her first years as a special education teacher in 2014.  Since then, she has never left.  Throughout her years at Club 21 Lucia has been an ECAR tutor, a Club Connections Facilitator, a Tools for the Journey Conference presenter, Second Saturday Speaker, and educational consultant. All the while she has continued to advance her studies and her career from a special education teacher to school psychologist, and most recently attaining her state licensure as a Licensed Educational Psychologist.  Lucia is a proud alumni of the California State University, Los Angeles, and is a part-time lecturer in the Charter College of Education's, Division of Special Education & Counseling.  There, she works with prospective teachers and school psychologists. After years of experiencing both the public and private sectors of the education world, Lucia is excited for her next chapter as an official part of the Club 21 team.  Lucia is excited to serve the Club 21 community, because it is a place where she continues to learn and experiences so much joy.  Lucia will be tasked with implementing Club 21's vision for a transition aged pathway for young adults with Down Syndrome to live independent, self-determined, and fulfilled lives as the Transition Coordinator, in addition to serving as an educational consultant for Club 21's programs and the annual Tools for the Journey Conference.
---
Linda Lohmeyer
Events Coordinator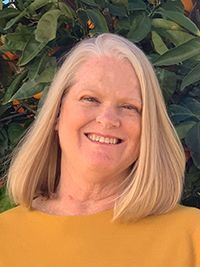 Linda Lohmeyer has been a part of the Club 21 family since finding us in 2011. She and her husband are the proud parents of James, a teenager and an active member of Club 21 programs. Linda served on the Board for 4 years before moving out of the area for a couple years.  Upon returning to Southern California, Linda joined our staff as Event Coordinator, primarily organizing our two largest fundraisers, the Together is Better Walk and the Spring Fundraiser.  Linda was raised in San Diego and graduated from San Diego State University with a B.S. in Business Administration with emphasis in Marketing. She brings to Club 21 past experiences in event planning, marketing, communications, sales planning and customer service. She does logistics and facility operations consulting for a triennial youth gathering of around 20,000 teenagers and adults for her church body. After a long corporate career in the third party financial marketing and medical device industries, Linda is doing what she told a college professor, "I want to work for a non-profit organization." She loves working with the fantastic staff and serving the families of Club 21!
---
Iris Barker
Community Liaison Coordinator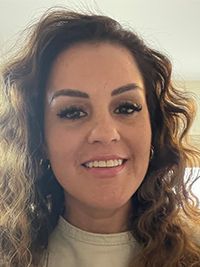 Iris Barker is the proud mom of three children. Her oldest Kayla has Down Syndrome. Iris and her husband were introduced to Club 21 early on in their journey and have been involved ever since. Iris was an active member and leader of Club 21's South Bay community group where she previously resided. She was involved in their Facebook group and volunteered in the planning, promoting, and execution of meetings, parties, and other activities.  Equipped with the knowledge and education Club 21 has provided to her and her family, Iris has become a fierce advocate for other families of children with disabilities wherever she goes. In 2022, Iris became Club 21's new Community Liaison. She, along with the DEI Taskforce, provides strategic leadership in the areas of access, belonging, and connection for Club 21 families.  As a family of color, Iris is especially interested in making sure families of underrepresented minorities learn about Club 21 and the resources and support it offers for families like hers.