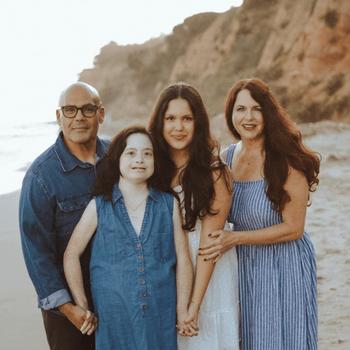 The Sarah Hinojosa Innovative New Endeavors Fund: A memorial fund (SHINE), established through Club 21 Learning and Resource Center, in the name of Sarah Hinojosa to financially help support individuals with Down syndrome as they embark on their journey toward employment or other creative business endeavors. 
"One of the things in life that truly made our beloved Sarah smile and shine was picking up her paycheck and depositing it into her bank account. Sarah's job gave her an added sense of purpose and increased her self-esteem. Sadly, unemployment for individuals with Down syndrome is extremely high, due in part to the lack of outside support and individualized training often needed to sustain employment. Moreover, opportunities for individuals with Down syndrome to create their own businesses are also lacking. By partnering with Club 21 and its transition programming, we look forward to changing these outcomes, with your help."  The Hinojosa Family
Please consider making an inaugural gift to The Sarah Hinojosa Innovative New Endeavors Fund (SHINE)!
Ways you can give:
You may make an online donation  

HERE

. 
Write a check to Club 21 (with SHINE Fund in the memo line) and send it to:             Club 21 - 539 N. Lake Avenue, Pasadena, CA 91101.
Follow the QR Code below to donate.
 Everyone deserves a chance to SHINE...