Friday January 31 and Saturday February 1, 2020
Info about the Conference:
Join educators and families at the 2019 Tools for the Journey Conference, on Friday January 31 & Saturday February 1, 2020,  where presentations by experts in the field will share the best practices for educating and supporting students with Down syndrome and other disabilities. This year there will be a range of over 12 stimulating workshops from friendship, inclusion support, modifications, technology,  and life after High School opportunities. Our presenters come from all over California and other parts of the country and they will share their expertise, innovative, research-based strategies on a variety of topics.  YOU won't want to miss it! Spaces are limited.
Download flyer HERE
Conference Location:
Club 21 Learning & Resource Center: 539 N Lake Ave. Pasadena, 91101
Cost
| Pricing | 1-Day Member | 1-Day Non Member | 2-Day Member | 2-Day Non Member |
| --- | --- | --- | --- | --- |
| Individual Registration | $200 | $250 | $250 | $300 |
| **Conference is vendored by Regional Center | Vendor #PD2655 | | | |
---
Final Schedule Coming Soon!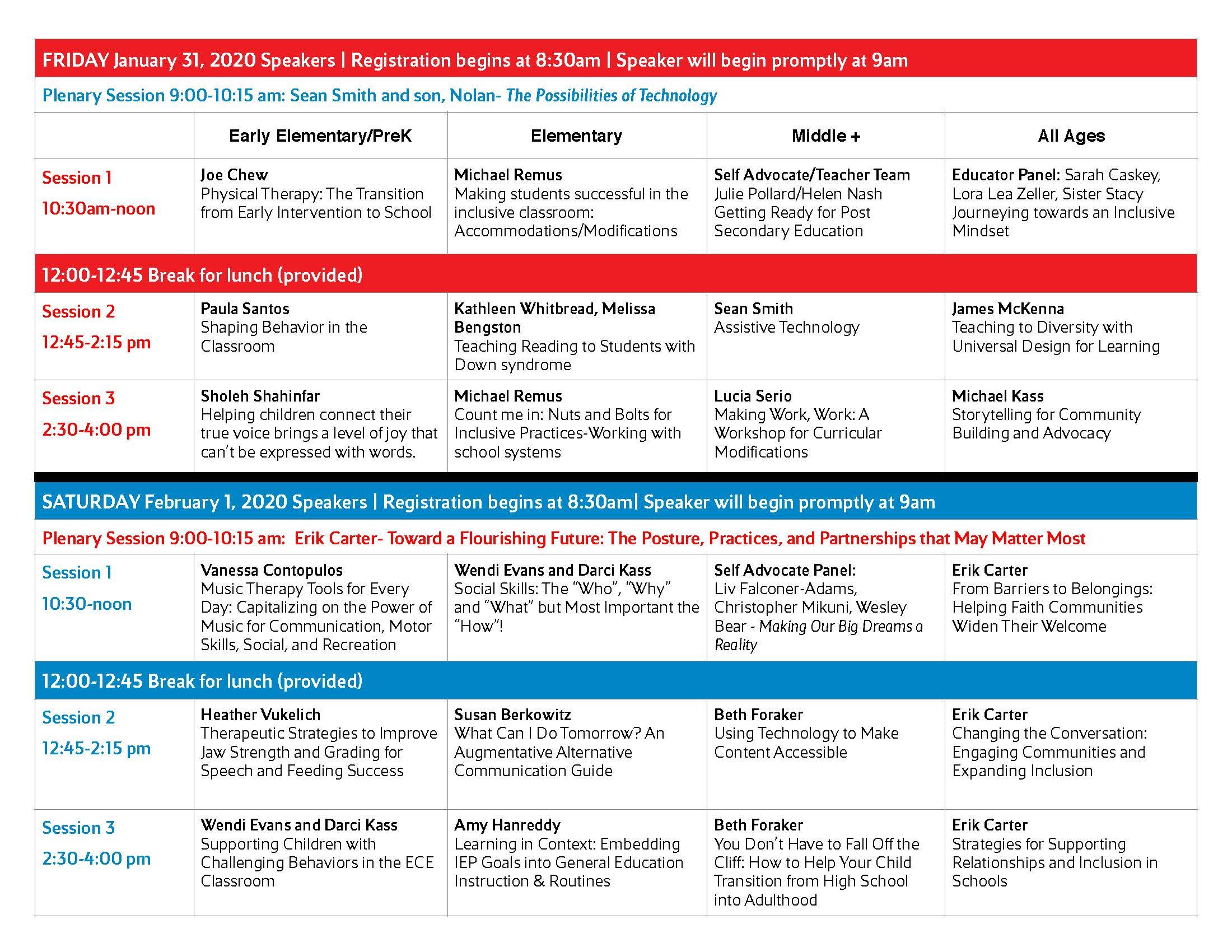 Lucia Serio

Lucia Serio has been involved with Club 21 Learning and Resource Center since 2015, in a variety of roles such as program leader, tutor, education consultant and presenter. She is a former special education teacher and currently works at UCLA, educating special education teachers in evidence- based practices, in addition to holding a position as a part-time lecturer in Cal State LA's teacher credentialing program. Lucia is continuing her education in the area of educational psychology. Her experience with parents, educators and students at Club 21 continues to influence her practices in the field of education.

Heather Vukelich

Happy Kids Therapy has a soul-filling passion for children with Down Syndrome. Heather Vukelich, MS CCC-SLP (speech pathologist and feeding specialist) has been part of the Down syndrome community since childhood when she volunteered in the special day classroom at her elementary school. Her passion continued through her life volunteering for the Down Syndrome Connection of the Bay Area and Challenger Baseball league. She has been a practicing, ASHA certified speech - language pathologist since 2003. She has worked inside the doors of the Down Syndrome Connection of the Bay Area (DSCBA) since 2008.

Today, Heather's passion for inclusion and independence translates directly into her work with children on speech clarity and feeding development. Heather is a certified Talk Tools Instructor and level 4 therapist. Heather was trained by the creator of the Talk Tools program - Sara Rosenfeld Johnson. (www.talktools.com).
Heather sees children of all ages (birth - adults) with a variety of diagnoses. Heather's specialty in working with people with Down syndrome also includes in-depth knowledge and resources regarding: diet, communication, educational programs, medical, physical and sensory needs, airway, orthodontic and sleep apnea as well as behavioral strategies.

Heather has presented for TalkTools, NDSC (Sacramento 2017), USC (2017), CLUB21 (Tools for the Journey 2018, 2019), TBODS, and at the DSCBA.

Beth Foraker

Beth Foraker is a mom to four children: Jack, 27, Mary Kate, 24, Patrick, 20 and Caroline, 13. Her third child, Patrick, has Down Syndrome.
Beth works for UC Davis in the School of Education with beginning teachers in their Multiple Subject Credential/Masters Program.
She is the Founder and Director of The National Catholic Board on Full Inclusion - a non-profit that works with families and schools to fully include students with intellectual disabilities in Catholic schools.
She works to build Continuums of Inclusion: communities that offer preschool through college inclusion so that independent adulthood and full belonging are possible.

Paula Santos

Dr. Paula Santos is a Licensed Clinical Psychologist, and Board Certified Behavior Analyst - Doctoral. Dr. Santos received her Masters and Doctorate degrees in Clinical Psychology from the California School of Professional Psychology, as well as Applied Behavior Analysis certification training from the University of West Florida.

Dr. Paula has more than 18 years working with children, adolescents and families developing, supervising and implementing behavioral programs, and skills training programs. She has worked in a variety of settings including in clinic, home, residential, school, and job settings. She specializes in providing Applied Behavior Analysis (ABA) services to those with childhood disorders with an emphasis in communication training, and independent living skills, as well as children and adolescents with ADHD with an emphasis on self-management, attending and organization skills.

Following years of teaching at the doctoral level and serving in various positions in the field of psychology and ABA, Dr. Santos started Assessment, Consultation & Treatment as a means to provide more individualized and comprehensive interventions to children and families with diverse needs. In her role as Chief Clinical Officer for Assessment, Consultation & Treatment, Dr. Santos provides diagnostic and behavioral assessments, as well as consultation, training and support to various school districts and organizations. She focuses much of her efforts on improving the quality of clinical services and training and supporting the clinical staff to care for the clients they serve.

Dr. Santos lives in Pasadena with her husband and 2-year old daughter and enjoys hiking, traveling, puzzles and binge watching bad TV.

Amplify Music Therapy

Vanessa Contopulos, MA, MT-BC, is the founder and director of Amplify Music Therapy, a music therapy company serving San Diego County and the Temecula Valley. Vanessa has worked in music therapy and music education for over 20 years. Vanessa's work as a music therapist spans a broad range of settings including: schools, hospitals, rehabilitation centers, hospice, and private clinics. Vanessa is also a singer- songwriter and mother. She loves working with people of all ages an abilities and especially loves to see what amazing things happen when people tap into their creative spirit.

Darci Kass

Darcie M. Kass is the Owner/Executive Director of A Child's Place Learning Center, Inc. (ACP) and Executive Director of Friend Builders, Inc. She has her Master's in Education and is Adjunct Faculty at Orange Coast College, Santiago Canyon College and Santa Ana College teaching classes in Child Development and Inclusion. From 1997 to present, Darcie has worked at ACP, first as a Pre-K teacher and then as Director and in 2012, she purchased the program. Darcie has expanded the center's full-inclusion program along with developing a separate program that focuses on teaching social skills to preschool age children. She is currently a member of the Orange County Child Care and Development Planning Council and is Co-Chair of the Orange County Inclusion Collaborative. Darcie is a Director Mentor through the California Early Childhood Mentor Program and facilitates the West Orange County Directors Collaborative. Often, Darcie is requested to provide mentoring and trainings to early childhood professionals on including children and families from various special populations including those within our LGBT community and how to support children with challenging behaviors. Darcie has a true passion for inclusion and that is evident in her dynamic and motivational presentation style.

Wendi Evans

Wendi L. Evans is the Inclusion Director at A Child's Place Learning Center, Inc. (ACP) and has her Bachelor of Arts in Child Development. She oversees the goals and progress of the children enrolled with various needs and behaviors. Wendi works with the ACP staff providing training and support when there are concerns with students along with developing behavioral management plans to assist when challenges occur. She also works closely with any outside agencies or school districts that that may also be supporting the child. Wendi is a member of the Orange County Child Care and Development Planning Council, representing the Lesbian, Gay, Bisexual, and Transgender (LGBT) Center OC. She is a volunteer on the Transgender Health and Wellness Committee and Transgender Community & Allies Together (TCAT). Wendi helped develop the Youth Library Project which is committed to creating a library section (preschool – young adult) at the LGBT Center OC and promoting LGBT children's literature events throughout Orange County. Wendi is often invited to speak at higher education classes on the subjects of Gender Development and LGBT issues.

Erik Carter

Erik Carter is Cornelius Vanderbilt Professor of Special Education at Vanderbilt University. His research and teaching focuses on evidence-based strategies for supporting inclusion and valued roles in school, work, community, and congregational settings for children and adults with intellectual and developmental disabilities. Prior to receiving his doctorate, Erik worked as a high school teacher and transition specialist. He has published widely in the areas of educational and transition services, including more than 200 articles/chapters and 6 books. He has received research awards from the Council for Exceptional Children, the American Association for Intellectual and Developmental Disabilities, the Division on Career Development and Transition, the Division on Autism and Developmental Disabilities, and the Association of University Centers on Disabilities. He works closely with parents and professionals to ensure the very best of what we know works penetrates everyday practice. He lives outside of Nashville with his wife and three children.

James McKenna

James McKenna leads the Inclusive Design unit, part of LACOE's Division of Curriculum and Instructional Supports. As the unit name suggests, his current work focuses heavily on inclusion; he provides several options for the implementation of Universal Design for Learning (UDL) and served as one of five County Leads for the CA MTSS project. James co-founded the CA UDL Coalition and is a member of the CAST National Faculty. Dr. McKenna holds a Doctor of Education degree in Education Leadership and Education Psychology from the University of Southern California.

Dr. Kathleen Whitbread

Kathleen Whitbread, Ph.D. is an educational consultant and former university professor who works with schools and families to improve educational outcomes for students with intellectual disabilities. She has specific expertise in teaching reading to students with Down syndrome and currently serves as the research and training coordinator for the Literacy and Education Center at the Down Syndrome Association of Connecticut. Dr. Whitbread has held faculty appointments at the University of Saint Joseph School of Education and the University of Connecticut School of Medicine. She is the former associate director of the UConn Center for Developmental Disabilities, where she directed research and training projects designed to increase access to general education for students with developmental disabilities. Dr. Whitbread maintains a blog, Open Books Open Doors, which features current research and best practice in teaching to students with Down syndrome. She maintains an active certification in Special Education (K-12) and associate level certification from the Orton Gillingham Academy of Practitioners and Educators. Dr. Whitbread can be reached at www.kathleenwhitbread.com

Melissa Bengtson

Melissa Bengtson, B.S. is the program coordinator for the Literacy and Education Center of the Down Syndrome Association of Connecticut. Melissa graduated with her Bachelor's degree in Special Education from the University of Saint Joseph and holds a dual certification in both Special Education (K-12) and Elementary Education (1-6). Melissa has conducted research on the preparation of preservice teachers to teach reading to students with disabilities and has received specialized training in the development of literacy evaluations for students with intellectual disabilities. Her dedication and passion for teaching reading has contributed to her role in creating a literacy program that helps empower children and adults with Down syndrome.

Wesley Baer

WESLEY BAER was born in Cape Town, South Africa in 1994. His family immigrated to the United States the following year. Wesley enjoyed educational inclusion for preschool and high school. After completing high school, he spent a year at the UCLA Pathways program. There, he completed unpaid internships at the UCLA Recreation Center and at a plant nursery. His paid work experiences began the following year in the Torrance Unified Adult Transition Program. Currently, he attends the ICAN program in Redondo Beach. Through ICAN, Wesley works for three of their micro-industries: an Etsy store, coffee cart and photo booth. He was one of the first young adults to benefit from a paid internship through Harbor Regional Center and ICAN. The six-month internship at Triton Gym in Hermosa Beach led to the owner of the gym employing Wesley on a part time basis. Also, Wesley has worked as a model for LA Fashion Week, and as a self-advocacy speaker.

Wesley's volunteer activities include providing childcare at Hope Chapel VBS, posting fundraisers on Facebook, and donating plasma, blood and platelets to the Red Cross once a month.

Wesley enjoys the stimulating and fun clubs at ICAN, sleep away camps, and socializing with his friends. Outside of work and program, Wesley likes attending UpVoice, listening to music, watching movies, taking guitar lessons, practicing his black belt karate forms, spending time with his family, chatting with friends and his girlfriend on the phone, and taking his girlfriend on dates.

Recently, Wesley participated in his first person-centered planning process. Subsequently, he resigned from his janitorial job at Triton to pursue work that more closely approximates his dream job.

Michael Kass

Michael Kass is an award-winning storyteller and the founder of Story & Spirit, an organization dedicated to helping people and organizations harness the power of story to create change. He has had the privilege of working with groups ranging from inmates in California's Central Valley to a group of CEOs and Istanbuls and never tires of learning from and with his clients. Michael is an ICF certified coach, holds an MA from Northwestern University, and probably likes brownies more than you do.

Michael Remus

Michael Remus has been a general education teacher, special education teacher, school principal, school board member, college instructor, special education director for a school district, state special education director for the State of Kansas and is also the parent of four children, two of whom have disabilities. Recently retired after 44 years working in schools he is now consulting with districts and parent groups across the country to make schools inclusive for all students. His goal is to make sure all students are educated with high expectations. Most of his professional career has been in the classroom and in training parents and educators on how special education works. He has worked in educational systems with varying numbers of students, schools and geographic areas to facilitate them in systems change. He is co-author of seven books for parents on how special education works, two training curricula based on the books, two effective practices manual on special education for schools, a toolkit with the administrative tools needed to make inclusive education successful and a Disability Awareness Activity Packet for teachers.

Michael is also involved in the advocacy movement as a parent having been the national Arc president, a member of the President's Committee on Intellectual Disabilities and many parent organizations as well as professional organizations in the field of education. Michael is passionate about building all communities to be inclusive for every individual.

Michael has received many awards for his work regarding inclusive practices. He has received the national TASH award as the Most Promising Administrator for Inclusive Practices, Educator of the Year from the National Down Syndrome Congress, the Joleta Reynolds Service to Special Education from LRP and many awards from different states.

Sholeh Shahinfar

A speech-language pathologist and certified oral motor therapist, Sholeh founded Valued Voices in 2014, shortly after a leap of faith landed her in a sought-after post-secondary teaching position in California. Within months she knew her highest calling was actually to make a significant positive impact on children's lives.

As Founder and CEO of Valued Voices, Sholeh uses her gift in holistic Child Communication Development to empower children to connect to their authentic voice – helping them grow mentally and physically and form stronger relationships through self-expression. She works closely with entire families to ease the stress of the unknown and find and implement solutions to any communication challenges a child is experiencing.

Her desire to give children the tools to express their most authentic self was born out of her own childhood experiences with self-expression. While part of a close-knit, loving family, Sholeh still had difficulty speaking up and sharing her thoughts and feelings.

She learned through her studies and life experiences that you can express your "voice" through whatever modality fits your needs, whether that be speaking, gestures, a device, writing, art, or dance.

Sholeh has always prioritized family, and shortly before starting her speech and language therapy practice, she supported her cousin by attending her son's speech therapy appointment with him. Through her participation at that one session, Sholeh realized that she longed to help children -- and instantly decided to focus her expertise and ability to nurture on giving families the tools to grow together through connection.

A registered yoga teacher who's also fluent in Farsi, Sholeh has an innate ability to create calm and promote mindfulness. When she's not furthering her education outside of office hours, you can find her out in nature or at the beach with her pup Kobe.

Sholeh holds a Certificate of Clinical Competence in Speech-Language Pathology (CCC-SLP) and is a licensed Speech-Language Pathologist.
Her practice is deeply rooted in the belief that we're all connected. And that only through our connectedness can we reach and impact children to uplift their voices in the world.

Susan Berkowitz

Susan Berkowitz has been a speech-language pathologist for over 40 years, working primarily with augmentative-alternative communication. She has worked for more than 46 years with students with autism; and has worked in public and nonpublic schools, private and state facilities, a variety of nonprofit agencies. Susan holds graduate degrees in both speech pathology/audiology and education, combining her knowledge of educational strategies, language development, and behavioral implementation in her practice. She has run her own private practice in Southern California for the past 22 years; providing independent evaluations, AAC consultation, staff development and training. She has published research in peer-reviewed professional journals and speaks across the country at national as well as international conferences and private workshops about AAC implementation. She has recently written a book about AAC implementation in easy steps and without the jargon, called; "Make the Connection!: A Practical Guide to Parents and Practitioners for Teaching the Nonverbal Child to Communicate with AAC."

Joe Chew

Joseph Chew graduated with his Master's Degree in Physical Therapy from California State University, Northridge in 2006. He has worked in various settings including hospitals, rehabilitation facilities, and private outpatient clinics serving children in early intervention and school districts. He served as an adjunct faculty member in the physical therapy assistant program at Stanbridge University for several years. He has been proud to volunteer with the Club 21 First Steps program since 2009 and has been blessed to watch so many children with Down syndrome thrive in Club 21. He is a proud member of the American Physical Therapy Association and Academy of Pediatric Physical Therapy since 2004. He is happily married with two beautiful girls.

Amy Hanreddy

Amy Hanreddy is an associate professor in the Department of Special Education at California State University, Northridge (CSUN). She teaches about inclusive and collaborative practices that benefit all students, with an additional emphasis on strategies that provide students with disabilities access to meaningful instruction in the context of general education settings. She has taught as a special education teacher in a traditional school district as well as at CHIME Charter School, an internationally recognized demonstration site for inclusive education, where she also served as the Director of Curriculum and Instruction and the Interim Executive Director. Dr. Hanreddy has published both scholarly and applied works related to inclusive education, communication supports for students with significant support needs, and school-university collaboration. She has provided professional development to teachers, administrators, paraprofessionals, and parents on these topics throughout the US as well as internationally.

Sarah Caskey

My name is Sarah Caskey. I have a bachelors degree in Behavioral Science and a Masters Degree in Special Education. I hold a multiple subject credential and a Special Education Credential in Mild/moderate disabilities. I also received my Autism Authorization. I am a Professor at Humphrys University, through their online program, where I teach Special Ed Law, Inclusion and a course called the Trauma informed Educator. I have been teaching in my school district for the last 17 years. I have taught general education kindergarten, but the majority of my time has been spent as a special education teacher. I recently, went back to teaching in general education so that I could provide a home for my students with special needs. I am teaching third grade. I am a mother of four awesome adult children and a Dog mom to three pups. I love to read, go hiking and spend time with my husband and our children, when they have time.
Tools For The Journey Conference is available through the generosity of: 
The Marino Family Charitable Foundation
The Simms Family Foundation
Pasadena Tournament of Roses Foundation
The Von Der Ahe Foundation
First Congregational Church